I found myself in Austin on a breezy but warm, Texas Saturday night. I am relatively new to this music scene as I had recently migrated here from New York three weeks ago, so I had no real direction for my evening apart from the fact that I knew Magna Carda had a show. Magna Carda is group that I have been itching to see for a few years now. Ever since I had accidentally stumbled upon their video for "Angela Bassett" on YouTube I have been kind of hooked on this band. Needless to say I was pretty excited for my Saturday night.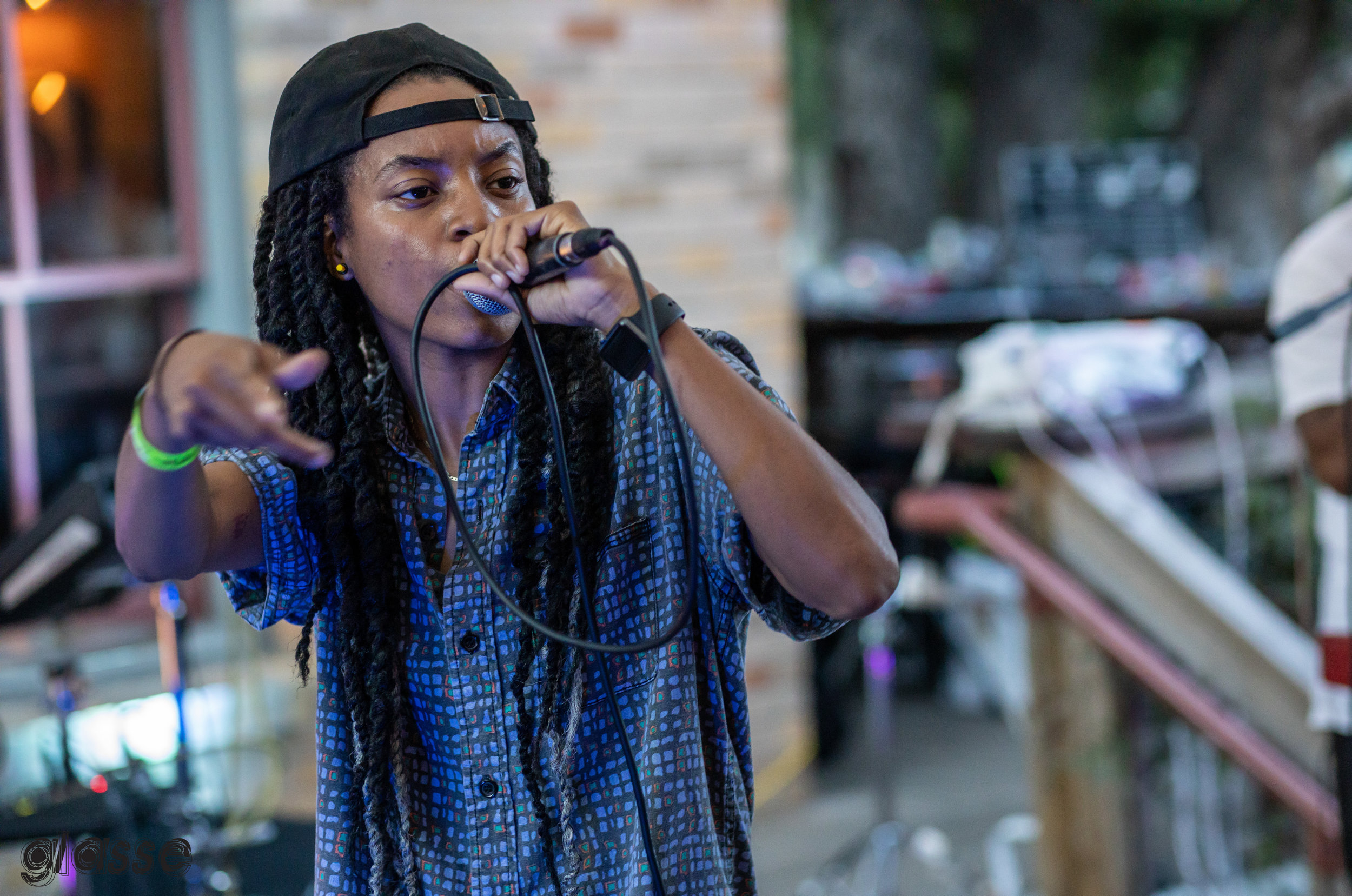 I arrive at Radio Coffee and Beer just as Magna Carda were taking the stage and was immediately struck by how many people were in attendance. It was packed, which was refreshing to me as I come from an area in central New York where we were lucky to get 50 people to a show. This was however Austin,Texas where music is pretty much everything so I shouldn't be that surprised. Anyway, I was basically a complete stranger in this new city but felt very welcomed by people and had some really genuine conversations about music and photography. Magna Carda was as amazing as I expected them to be. Megz Kelli has a way of hypnotizing the crowd with her smooth AF approach to spitting lyrics, which is far more poetic and classy than your average "put your hands up and say yeah!" approach to hip hop. Make no mistake, this band was tight and flawless in their musical execution. No wild stage antics or hype men…Just straight to the point, Hip Hop in it's purest form. I absolutely love them! They would however become a stark contrast from the band that would be performing next.
Personally I had never heard of Calliope Musicals before but the pre stage set up had me thinking that this band was anything but normal. The stage was adorned with props and colorful lights and on top of one of the speakers was a mannequin head with light up eyes. Needless to say this show was most likely going to be visually crazy, so my expectations started to increase. I mean, sometimes bands cover poor music up with over the top light displays. These guys would NOT be one of those bands. Honestly, beyond all the cool psychedelic visuals and lights this is an extremely talented band. Front woman Carrie Fussell has an amazing, almost Beth Ditto-esque voice and she certainly knows how to keep the crowd energized. It wasn't just a concert this was an immersive and interactive experience and I honestly haven't had such a fun concert experience in a long while. Unfortunately, I wasn't able to catch all the bands on the bill but from what i heard they were all excellent. As far as Calliope Musicals go, I highly recommend their latest album Color/Sweat and if you happen to see their name on any Concert flyers be sure to check em out live! They are simply wonderful! Also, if you are ever in Austin swing by Radio Coffee & Beer. They have excellent Kombucha and from what people tell me some pretty amazing on tap cold brew.
For more on Magna Carda check out:
For more on Calliope Musicals check out:
Also be sure to check Radio Coffee & Beer:
https://www.radiocoffeeandbeer.com/
Other Articles